Justrite SafeSite Safety Chest
Justrite SafeSite Safety Chests protect flammables from ignition sources, misuse or theft by storing them in a specially designed safety chest. They provide protected storage of fuels, paint thinners, solvents, or other flammables typically found at construction and utility jobsites. Easy portability with optional casters also makes them ideal for indoor maintenance and construction locations where solvents and other chemicals are used. Caster options include 2000 lb capacity heavy duty (set of 4, 2 locking) or 1120 lb capacity (set of 4, 2 locking).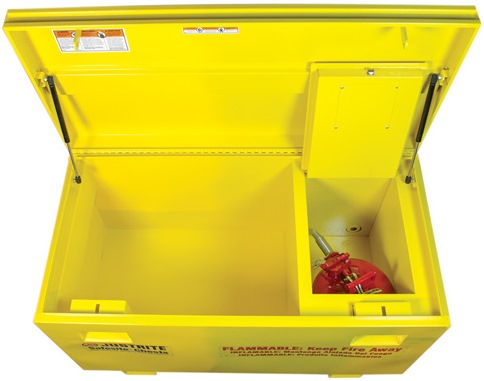 Two SafeSite safety chest models are available:
SafeSite Flammable Storage Chest (16032Y) - Exterior: 48" W x 31.125" H x 24" D, Interior: 18" H
SafeSite Flammable Combo Storage Chest (16032): Exterior: 48" W x 29.5" H x 24" D; Interior large compartment: 30.5" W x 21" H x 23.75" D; Interior small compartment: 12.25" W x 18" H x 21" D; features a unique safety compartment designed to accommodate a 5-gallon (19-liter) Justrite safety can, while the larger compartment is perfect for storing tools and other important items (shown left)
General tool storage chest model also available; not intended for the storage of flammables.
---