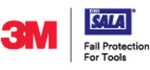 3M DBI-SALA® Fall Protection for Tools
3M™ DBI-SALA® Fall Protection for Tools makes work environments safer and more productive by drastically reducing falling object incidents resulting in personal injury, equipment damage, and tool loss.
These drop prevention solutions are designed with the craft in mind, and are third-party tested in the harshest possible conditions. Learn more about our comprehensive collection of tool lanyards, tool holsters, attachment points, and other drop prevention products.
VIDEO: When dropped from 200 feet, what does the impact of an 8 lb wrench look like?
---