Surface Shields Surface Sled Surface Protection
Surface Shields Surface Sleds offer surface protection when moving large objects. Two types are available.
Surface Sled for Hard Surfaces (pictured top): Glide heavy appliances, furniture and other objects smoothly and safely across hard surfaced floors. The extra soft felt bottom ensures that floors will not be scratched or marked while using these reliable furniture sliders. The thick foam rubber padding on top provides plenty of cushion for heavy objects. Surface Sleds for hard surfaces are perfect to use on hardwood floors, ceramic tile, vinyl and more. Surface Sleds for hard surfaces are 6" x 10" to accommodate very large legs on furniture and tables.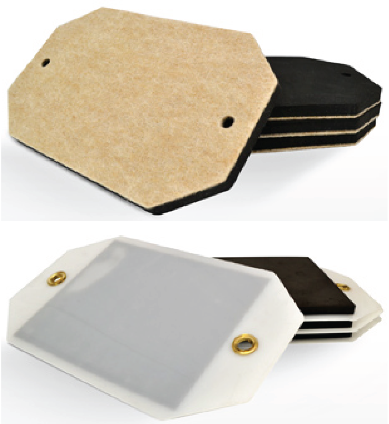 Surface Sled for Carpet (pictured bottom): Moving heavy objects across carpeting is a breeze with Surface Sleds. Constructed with an extra smooth bottom, these furniture sliders will glide across the floor with ease. The thick foam rubber top also ensures that the item being moved will not slip off the Surface Sled. These handy sleds are built to last. They are made with a nearly unbreakable material. Surface Sleds for carpet are available in 1', 4' and 6' lengths to accommodate a variety of different types of furniture.
To make the job even easier, Surface Sled handles are also available. These are long metal handles that hook into the holes on the front of the sleds.
---