SpillFix Industrial Organic Absorbent
SpillFix Industrial Organic Absorbent is a universal absorbent that will clean up just about any spill and save you time and money. SpillFix is made from a sustainable coconut byproduct, making it a safe and environmentally responsible solution to almost any spill. It complies with all ergonomic and OSHA regulations and is nonabrasive, dust-free and cleans to a slick-free surface.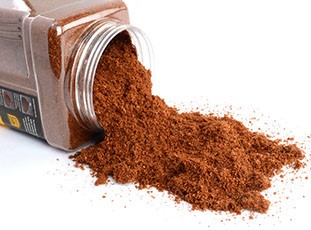 SpillFix is suitable for cleaning up spills across a wide variety of industries and applications, including aviation, marine, automotive repair and recycling, oil and gas, fleet management, mining, rail, steel manufacturing, first responders, waste management, food production and painting.
SpillFix absorbs immediately, making cleaning up quick and easy. The less time a spill hazard is on the ground, the safer it is for you and your employees.
SpillFix can be used again and again until it's saturated. This can reduce waste by 66% in weight and 75% in volume, saving you waste disposal costs.
Traditional "kitty litter" users can reduce 4 heavy 40lb bags of slow-acting adsorbent to just one lightweight 20 lbs bag of fast-acting re-usable SpillFix.
Traditional "kitty litter" is made from an unsustainable mined material that creates a large amount of hazardous waste and produces dangerous
carcinogenic dust. SpillFix is safe for you and the environment –
even after it reaches your local landfill.
Using SpillFix will save you money on transport and warehousing. Instead
of four pallets of traditional "kitty litter" weighing about 6800 lbs, you can use one pallet of SpillFix, which weighs 960 lbs.
See it in action!
Available sizes:
| | | | | |
| --- | --- | --- | --- | --- |
| Model | RDSPL3L | SPL-15L | SPL-50L | SPLCW-4GB |
| Absorbent per pkg | 3 q / 3 L | 0.6 ft3 / 15 L | 2 ft3 / 50 L | 4 gallons |
| Weight per jar (net when packed) | 1.1 lbs | 7 lbs | 20 lbs | 7 lbs |
| Capacity to absorb | +/- 2 quart spill | +/- 2.1 gal spill | +/- 7 gal spill | +/-2.1 gal. spill |
---