Moldex Airwave SmartStrap Particulate Respirator
Moldex Airwave SmartStrap Particulate Respirators offer easier breathing and more comfort thanks to the larger surface area of the patented wave design which means more air flow in and out of the mask. The unique FlexFit® design moves with your face for comfort all day long and the Dura-Mesh® shell prevents collapsing from heat and humidity so your mask lasts longer. Longer use means less waste and lower costs. This particulate respirator is also metal free.
The exclusive cool and comfortable SmartStrap allows you to adjust the mask for a custom fit. It has a soft foam face cushion resulting in no pressure points. More comfort means more compliance. The SmartStrap also allows the respirator to hang around the neck when not in use.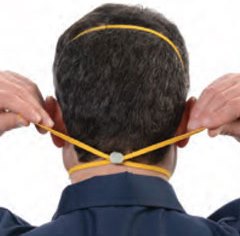 There are several models of Airwave SmartStrap Particulate Respirators available:
4300P95: P95 protection against oil and non-oil based particulates; available in M/L
4600N95: N95 protection against particulate aerosols free of oil; available in S and M/L
4700N100: N100 protection against particulate aerosols free of oil; available in M/L
4800N95: N95 protection from particulate aerosols free of oil and relief from nuisance levels of organic vapors
---
Upcoming Events
20 Jul 2018
Hazmasters Burnaby Customer Appreciation Open House
Burnaby, BC
20 Jul 2018
Working at Heights Training (ON CPO Approved)
Ajax, ON
Watch our 3 minute video