Mintie Environmental Shield System
The Mintie Environmental Shield System allows you to isolate exhaust, return and supply vents as well as smoke detectors in a matter of minutes, then seal any doors, making it fast and easy to prepare an HVAC system for aerosol generating projects. Disposable Mintie Vent Shields work with horizontal, vertical, flush and raised vents. Indirect access due to equipment or area design is no problem; neither are tight spaces or sprinklers in bathrooms. The ESS extender pole allows for easy access to any vent while standing on the floor; no ladder is required. Reusable smoke detector covers fit most standard units and pop on and off with ease. Seal doors or other leak points with extra wide Mintie tape and the area is ready for aerosol generating construction or maintenance projects. Corridors can be segmented with the Mintie Corridor Flange. Shields and tape release easily and do not leave residue or cause damage to the surface.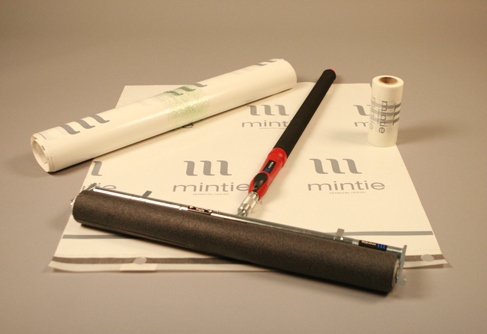 The ESS Starter Kit includes:
(10) Mintie Vent Shields

(1) 24 ft sample roll of Mintie Tape

(1) 30" - 60" extendable pole

(1) Mintie Shield Applicator Head
Mintie Vent Shield refills available in packages of 25. They feature integrated tabs, have an active area of 28" x 30", and a maximum vent coverage size of 24" x 26". Reusable Smoke Detector Shields and additional rolls of Mintie Tape are available separately. Standard roll size for Mintie Tape is 6" x 108'. Both the Mintie Vent Shields and the Mintie Tape are fire retardant, recyclable and biodegradable. Long extendable pole (40" - 80") also available.
For more information:
Brochure: Mintie Environmental Shield System
Video: See it in Action! Mintie Environmental Shield System
---