Hazmasters Acquires New Heights Industries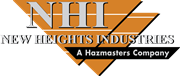 Hazmasters is pleased to announce the acquisition of New Heights Industries!
NHI is a safety education and consulting firm, with an excellent reputation Canada wide. New Heights is based in Winnipeg, and conducts business across Canada. This acquisition will help support our customers, and the growth of our HazSafeED training and education program.
We look forward to incorporating the NHI team into our business, servicing the customers they have, continuing to support our HazSafeED customers, and further developing education courses and programs for our customers across Canada, creating safer work environments.

Return to Company News page
Upcoming Events
20 Jul 2018
Hazmasters Burnaby Customer Appreciation Open House
Burnaby, BC
20 Jul 2018
Working at Heights Training (ON CPO Approved)
Ajax, ON
Watch our 3 minute video