FLIR Airtec Diesel Particulate Monitor
The Flir Airtec Diesel Particulate Monitor (DPM) from FLIR displays elemental carbon levels in real time, taking the measurement out of the laboratory and placing it in the hands of the mine operator/ventilation engineer. Sensitive, rugged and easy-to-use, the Airtec monitor provides results that are time-and-space-resolved. This capability enables rapid modification of vehicle use, personnel placement and mine or building ventilation. The monitor uses technology developed by the diesel particulate group at the NIOSH Pittsburgh Research Laboratory and has been determined to precisely replicate results from their method 5040 test.
The FLIR DPM is lightweight, portable, and rugged for harsh environments. It has a large LCD display with backlighting and can be worn on a belt loop or vehicle/wall mounted. It has a high sensitivity to DPM and contains a flow-selectable air pump. Readings can be downloaded via USB and an available output enables device networking and ventilation on demand. It offers long battery life operation (>12hr continuous use) or can be used with AC power.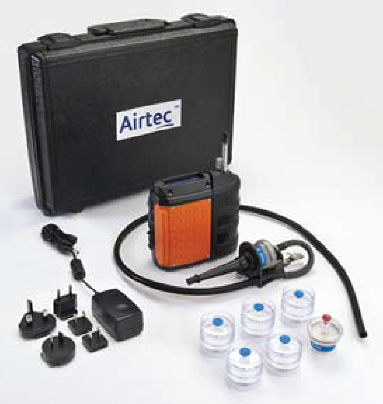 This diesel particulate monitor comes complete with the Airtec monitor, inlet prefilter assembly, five filter cassettes, two prefilter cartridges, USB to mini-USB PC cable, and a rechargeable battery with 9V/2A Universal AC adaptor (100-240VAC).
---