DBI Sala FlexiGuard Supported Ladder Fall Arrest System
DBI Sala FlexiGuard Fall Arrest Systems are custom access solutions created based on your application requirements and design constraints while ensuring maximum safety and peace of mind. They are durable in construction, made from powder-coated anodized high strength alloy and SAE J429 Grade 8 hardware with a zinc yellow Chromate plated finish. The enclosed rail design helps keep debris and weather elements out. They offer portability in a lightweight design, allowing them to be easily moved by minimal personnel and employ heavy-duty stabilization for use on uneven ground. Most system styles allow for positioning by a forklift or other service vehicle. They can also be permanently mounted (where applicable). FlexiGuard systems are versatile and can be used both indoors and outdoors. They provide a large, safe working area (working radius from rail is 6 ft or 30°) and are 100% fall arrest rated for tie-off from the ground up. The rigid anchor points have no deflection or sag, reducing fall clearance requirements and there are multiple overhead anchor points on systems designed for multiple users.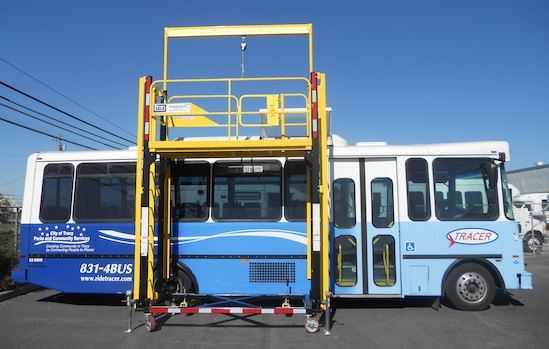 The FlexiGuard Supported Ladder System is a portable system specifically designed for the safe access and maintenance of transportation vehicles in a variety of different applications and environments. This unique solution is suitable for one user and offers the best in passive and active fall protection. The work platform is fully enclosed by guardrails for superior passive fall protection and easily accessible through two spring loaded swing gates. The working surface of the vehicle is accessed through one spring loaded gate while the user is tied off to the active fall arrest rail. It incorporates a heavy-duty steel base design with an aluminum platform and fall arrest rail plus a non-slip work platform and 8" urethane wheels. The system is equipped with two heavy-duty stabilizing jacks and two retracting outriggers that can be set without having to go beneath the work surface. Custom paint job option available.
See it in action!
Video: DBI Sala FlexiGuard Supported Ladder Fall Arrest System
Dimensions:
Platform height: 9 ft
Platform length: 9 ft
Platform width: 3 ft
Rail length: 12 ft
---
Upcoming Events
20 Jul 2018
Hazmasters Burnaby Customer Appreciation Open House
Burnaby, BC
20 Jul 2018
Working at Heights Training (ON CPO Approved)
Ajax, ON
Watch our 3 minute video