Bright Star Heavy Duty Industrial LED Flashlight
Bright Star's 2618 Heavy Duty Industrial LED Flashlight has been designed for the toughest environments. It can survive a one meter drop and features an unbreakable lens, a crush-resistant case and a switch-guard that protects the switch in case of impact. The deep-ribbed case provides a non-slip grip and anti-roll design; it is also chemical/grease resistant. This flashlight provides a super bright light at 50 lumens and 1407 candela peak beam intensity, and is visible up to 75 meters. It also has a long runtime at 200 hours with a 30,000 hour lifetime. Powered by two D-cell batteries.
Weight: 5.02 oz
Dimensions: 8.1" L x 2.3" W (at head)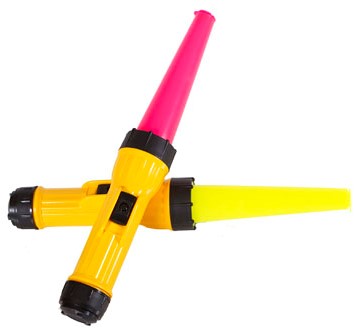 Optional pink or yellow snap-in wands available to turn your 2618 Heavy Duty Industrial LED Flashlight into a Director Light. Wands snap in to the lens ring of the flashlight and are 6.5" long.
---