FREE Benefect Wipes Promotion!
Receive a FREE pail of Benefect Wipes with the purchase of a case (4 jugs) of Decon 30!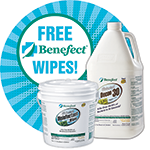 Offer ends May 30, 2018.
Available only while supplies last.
Limit of 12 free pails of wipes total per customer during the promotional period.
Offer not available in Atlantic Provinces.

Promo part number: BENE-50476-50376-PROMO
(4) jugs Decon 30, 4 L • (1) pail Benefect Wipes, 250 wipes
Click here to download the promotion flyer for full details!
Benefect products are made from a proprietary botanical active ingredient, formulated with whole essential plant oils, not synthesized copies of the chemicals found within the oils.
Kills over 99.99% of bacteria
No synthetic chemicals
No label warnings or precautionary statements
No PPE required for use
No evacuation of building occupants required
No rinsing or wiping required, even on food contact surfaces
Decon 30 Disinfectant (click to learn more):
Lighter scent than original Benefect Disinfectant
Can be used as a carpet sanitizer
Fast 30 second bacteria kill
Disinfectant Wipes (click to learn more):
Wipes are strong, durable and biodegradable
Foams for longer contact time and improved visibility of surface coverage
Return to Promotions page