Accuform LED Lite Signal Flip Scoreboard
The Accuform LED Lite Signal Flip Scoreboard draws full attention to the status of safe work days in your facility with bright lights and big safety messages. Dedicate the entire scoreboard face for promoting the number of safe work days in your facility, while digitally showing off the current number of safe days. If a near-miss or lost-time accident occurs, just "flip" the message down, covering the digital counter and drawing attention to a change in status at your facility. Each message is complemented by a brightly-lit, eye-catching, traffic-style light. If the safety status at your facility changes, flip it! The panels are very durable with locking hinges and the traffic light features bright LED bulbs behind 8" diameter lenses. Lights are controlled by switches, and a flasher features is available separately for added attention. The Digi-Day Plus counter features four bright red, 4" tall numbers, is water and tamper-proof, and easily sets with a handheld remote control. The display automatically advances every 24 hours. The entire unit is contained in a large 6' wide x 3' tall x 6" deep aluminum cabinet.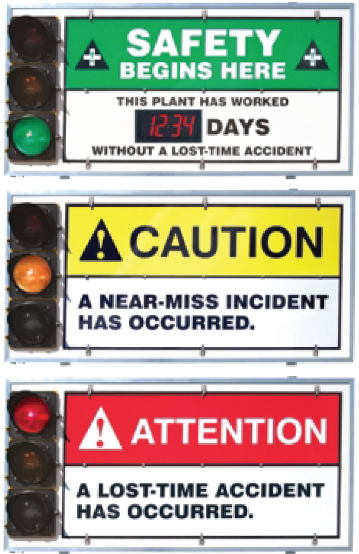 Panel #1: Safety - turn on green light and flip to green panel.
Panel #2: Caution - turn on yellow light and flip to yellow panel.
Panel #3: Attention - turn on red light, flip to red panel and reser Digi-Day Plus counter
---